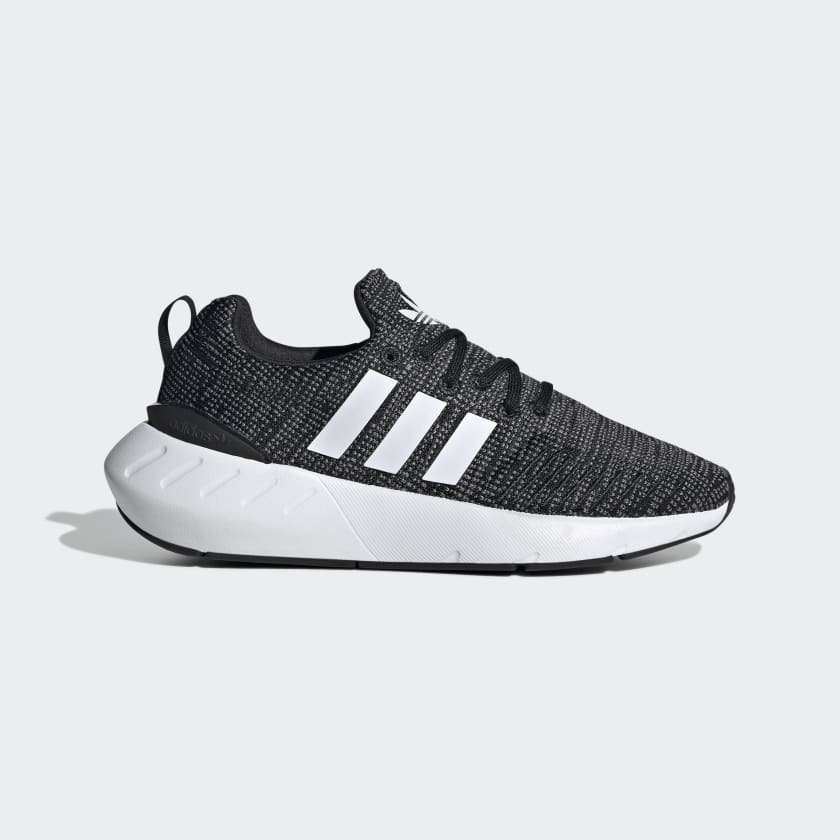 Adidas Swift Run 22 Review: Unleash your style with comfort. Our comprehensive review covers design, fit, and performance.
In the fast-paced world of athletic footwear, Adidas has consistently stood out as a brand that seamlessly merges performance and style. One of their latest offerings, the Adidas Swift Run 22, has been creating waves in the sneaker community. In this comprehensive review, we'll delve into the features, comfort, performance, and overall design of the Adidas Swift Run 22, helping you decide if this sneaker deserves a spot in your collection.
In a world where style and comfort are no longer mutually exclusive, the Adidas Swift Run 22 emerges as a prime example of athletic footwear that caters to the modern individual's needs. With a promise to deliver unparalleled comfort, lightweight performance, and a touch of elegance, this shoe has gained immense attention.
Main Features and Benefits of the Adidas Swift Run 22 shoes:
| Feature | Benefit |
| --- | --- |
| Lightweight | Easy to wear for long periods of time, even if you have to stand or walk a lot. |
| Comfortable | Provides support and cushioning, so your feet won't get tired or sore. |
| Durable | Will last for many miles, even with everyday wear and tear. |
| Stylish | A classic design that will look good with any outfit. |
| Cushioned | Absorbs shock and impact, so your feet and joints will be protected. |
| Flexible | Allows for natural movement, so you can walk, run, or jump without feeling restricted. |
In addition to these features and benefits, the Adidas Swift Run 22 shoes are also made with Primegreen, a series of recycled materials. This makes them a sustainable choice for those who are looking for eco-friendly footwear.
Here is a more detailed explanation of some of the features and benefits of the Adidas Swift Run 22 shoes:
Lightweight: The Swift Run 22 shoes are made with a lightweight knit mesh upper, which makes them very comfortable to wear for long periods of time. They are also very breathable, which helps to keep your feet cool and dry.
Comfortable: The Swift Run 22 shoes have a padded collar and tongue, which provides extra comfort and support for your feet. The EVA midsole also provides cushioning, which helps to absorb shock and impact.
Durable: The Swift Run 22 shoes are made with a durable rubber outsole, which provides traction on a variety of surfaces. The upper is also made with a durable knit mesh, which is resistant to tears and abrasions.
Stylish: The Swift Run 22 shoes have a classic design that will look good with any outfit. They come in a variety of colors, so you can find a pair that matches your style.
Cushioned: The Swift Run 22 shoes have a cushioned midsole that absorbs shock and impact, which helps to protect your feet and joints. This makes them a good choice for people who walk or run on a regular basis.
Flexible: The Swift Run 22 shoes have a flexible outsole that allows for natural movement. This makes them a good choice for people who need to move quickly or who want to avoid foot pain.
Overall, the Adidas Swift Run 22 shoes are a great choice for people who are looking for a lightweight, comfortable, and durable pair of sneakers. They are also stylish and have a cushioned midsole that helps to protect your feet and joints.
Unboxing Experience: First Impressions Matter
The journey begins with the unboxing experience. Opening the shoebox reveals meticulous packaging that hints at the quality within. The Swift Run 22 is neatly nestled, inviting excitement to lace them up and hit the streets.
Design and Aesthetics: Where Comfort Meets Style
The Swift Run 22 boasts a contemporary design that effortlessly transitions from workout sessions to casual outings. Its sleek silhouette and seamless integration of classic and modern elements make it a versatile choice for various occasions.
Comfort Beyond Compare: The Swift Cushion Technology
At the heart of the Swift Run 22 lies Adidas' innovative Swift Cushion Technology. This revolutionary feature ensures that each step is cushioned, providing exceptional support for your feet throughout the day.
Performance on the Move: Lightweight and Responsive
Whether you're jogging through the park or exploring the urban landscape, the Swift Run 22 delivers exceptional performance. Its lightweight construction and responsive sole make every movement feel natural and effortless.
Versatility: From Streets to Sports
Adaptability is key, and the Swift Run 22 embraces it fully. Transition from your daily routine to light sports activities seamlessly, thanks to its versatile design and performance-oriented features.
Durability: Built to Last
Investing in footwear is an investment in longevity. The Swift Run 22 is built to withstand the demands of an active lifestyle, ensuring that it remains a reliable companion for countless adventures.
Sizing and Fit: Finding Your Perfect Match
Achieving the perfect fit is paramount. With a range of sizes and a fit that caters to different foot types, finding your ideal match is a breeze with the Swift Run 22.
Color Variety: Express Your Personal Style
Express yourself through a myriad of color options that allow you to showcase your unique personality and style. Whether you prefer classic tones or vibrant hues, the Swift Run 22 has something for everyone.
Maintenance: Keeping Your Swift Run 22 Fresh
Preserving the pristine condition of your Swift Run 22 is effortless. With simple cleaning and maintenance routines, you can ensure your sneakers look as good as new, even after extensive use.
Price Tag and Value for Money
Quality and affordability find harmony in the Swift Run 22. The reasonable price tag makes this shoe a worthy investment, providing exceptional value for the features it offers.
Customer Reviews: Real Voices, Real Experiences
Don't just take our word for it; hear from those who have experienced the Swift Run 22 firsthand. Customer reviews highlight the shoe's performance, comfort, and style from real-world perspectives.
Comparison with Previous Models: What's New in Swift Run 22
For those familiar with Adidas' lineup, a comparison with previous models reveals the technological advancements and design refinements that set the Swift Run 22 apart.
Where to Buy: Easy Access to Footwear Excellence
Ready to make the Swift Run 22 your own? We provide insights into where you can purchase this exceptional sneaker, ensuring a convenient and hassle-free shopping experience.
Conclusion: Your Feet's New Best Friend
In a world that never stops moving, finding reliable footwear is a necessity. The Adidas Swift Run 22 transcends expectations, offering a harmonious blend of comfort, performance, and style that caters to your dynamic lifestyle.
FAQs (Frequently Asked Questions)
1. Can the Adidas Swift Run 22 be used for intense sports activities?
The Swift Run 22 is designed to excel in a variety of activities, including light sports. While it offers great comfort and performance, for intensive sports, we recommend exploring specialized Adidas sports footwear.
2. Are these sneakers suitable for all-day wear?
Absolutely, the Swift Run 22's Swift Cushion Technology ensures all-day comfort, making them a great choice for extended wear.
3. How does the sizing of the Swift Run 22 compare to other Adidas models?
The sizing is generally consistent with other Adidas shoes. However, we recommend referring to the size chart for precise measurements.
4. Can I machine wash my Swift Run 22 sneakers?
We recommend hand-cleaning to maintain the quality of the sneakers. Follow our care instructions for best results.
5. Are there limited edition color releases for the Swift Run 22?
Adidas occasionally releases limited edition colors. Keep an eye on their official website and stores for exciting updates.