In a world where comfort and style meet, the Under Armour Slip Speed is making waves, and we're here to bring you the full story.
This comprehensive review will explore every nook and cranny of this remarkable slip-on shoe, from its innovative features to the real-world experiences of wearers like you. Whether you're a sneakerhead or just someone in search of a versatile and stylish addition to your collection, this review has got you covered.
We'll take you on a journey through its design, performance, and what sets it apart from the competition. So, if you're ready to discover the next level of comfort and convenience, join us as we delve deep into the world of the Under Armour Slip Speed.


Why Consider This Product?
When it comes to training shoes, you want a product that can deliver optimum performance, exceptional comfort, and versatile functionality. That's where the Under Armour Slip Speed comes in. These revolutionary Slip-On training shoes are designed to meet all your training needs while providing unparalleled support and comfort. But why should you consider this product? Let's delve into the details.
The Slip Speed has been meticulously engineered using the latest scientific research and technology. Its key features have been proven to enhance performance and provide unmatched comfort during intense workouts. Furthermore, these shoes have been backed by countless customer testimonials, endorsing their effectiveness and reliability.
Features and Benefits
UA FLOW CUSHIONING:
The Slip Speed boasts UA Flow Cushioning, a technology that sets it apart from other training shoes. This innovative cushioning system offers exceptional comfort, ground contact, and traction, allowing you to perform at your best without any squeaks.
BREATHABLE UPPER:
Say goodbye to sweaty and uncomfortable feet during workouts. The Slip Speed features a breathable upper made of reinforced and supportive material with engineered venting. This unique design keeps your feet cool and comfortable even during the most intense training sessions.
BOA FIT SYSTEM:
Finding the perfect fit has never been easier. The Slip Speed comes equipped with the BOA Fit System, a 12-point lockdown system that allows you to customize the fit of the shoe with a simple click. Achieve a personalized fit that provides maximum support and stability.
ISO-CHILL PADDED INTERIOR:
Comfort is key during training, and the Slip Speed delivers just that. The shoe's interior is padded with Iso-Chill technology, providing heel-to-toe foam padding that feels cool to the touch. Enjoy ultimate comfort throughout your workout sessions.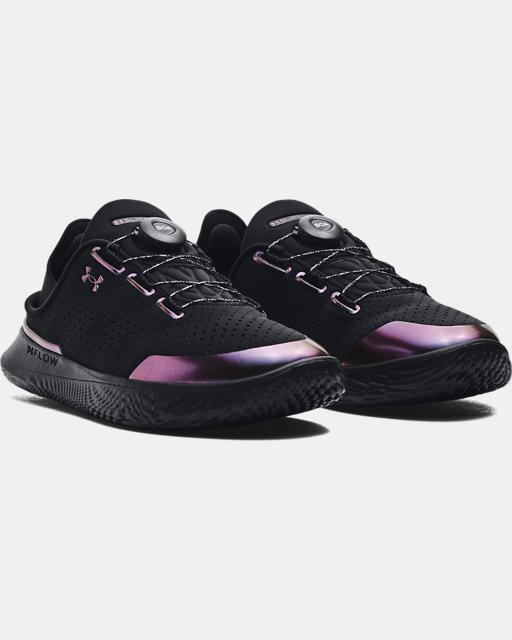 Product Quality
Under Armour is known for its commitment to producing high-quality athletic gear, and the Slip Speed is no exception. These training shoes are built to last, with durable materials and superior craftsmanship. Each pair undergoes rigorous quality control tests to ensure that every customer receives a reliable and long-lasting product.
What It's Used For
Intense Workouts:
Whether you're hitting the gym, going for a run, or taking part in high-intensity training sessions, the Slip Speed is the perfect companion. Its exceptional support and cushioning make it suitable for all types of intense workouts, allowing you to push your limits and achieve your fitness goals.
Cross-Training:
The Slip Speed's versatility makes it ideal for cross-training. From weightlifting to cardio exercises, these shoes provide the stability and support you need to excel in different training sessions. Switch seamlessly between exercises without compromising on comfort or performance.
Recovery Mode:
Don't let post-workout fatigue slow you down. With the Slip Speed's convertible heel, you can easily switch from train mode to recover mode. Simply flip the heel and give your feet the rest and relaxation they deserve. The Slip Speed offers versatility that caters to every aspect of your training routine.
Casual Wear:
Who says training shoes can't be stylish? The Slip Speed's sleek design and modern aesthetics make it suitable for casual wear as well. From running errands to meeting friends, these shoes will keep you looking and feeling great all day long.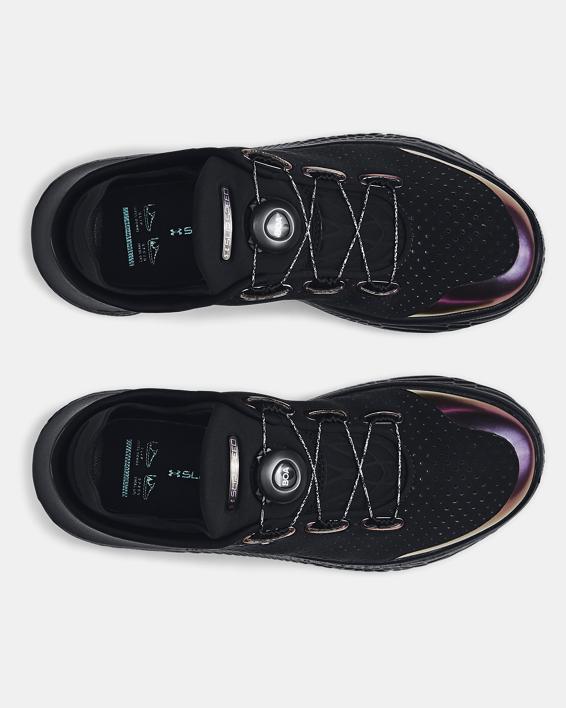 Product Specifications
| Specification | Details |
| --- | --- |
| Gender | Unisex |
| Shoe Type | Slip-On |
| Cushioning | UA Flow |
| Upper Material | Synthetic |
| Closure | BOA Fit System |
| Heel Type | Convertible |
| Cleaning | Machine Washable |
Who Needs This
The Slip Speed is a versatile training shoe that caters to a wide range of individuals. Whether you're an athlete, fitness enthusiast, or someone who simply values comfort and functionality, these shoes are a perfect fit for you. Regardless of your age or fitness level, the Slip Speed is designed to elevate your performance and make your training sessions more enjoyable.
Pros and Cons
Pros:
Unparalleled comfort and support
Versatile functionality for different training sessions
Breathable and cool even during intense workouts
Easy to adjust fit with the BOA Fit System
Durable and long-lasting
Machine washable for easy maintenance
Stylish design suitable for casual wear
Cons:
Limited color options available
Higher price point compared to some other training shoes
FAQ's
Are these shoes suitable for running?

Absolutely! The Slip Speed is designed to provide the necessary support and cushioning for running and other cardio exercises.

Can I wear these shoes for weightlifting?

Yes, the Slip Speed offers excellent stability and support, making it suitable for weightlifting and strength training.

Can I wear these shoes without socks?

While the shoes are designed to be worn with socks, the padded interior provides comfort even without them.

Are these shoes available in different sizes?

Yes, the Slip Speed is available in a wide range of sizes to accommodate different foot shapes and sizes.
What Customers Are Saying
Customers who have purchased and used the Slip Speed rave about their performance and comfort. Many highlight the superior support and stability these shoes offer during their workouts. The breathable upper and Iso-Chill padded interior also receive praise for keeping their feet cool and comfortable. Overall, customers are impressed with the Slip Speed's quality, durability, and stylish design.
Overall Value
Considering the features, performance, and durability of the Slip Speed, it offers excellent value for your investment. While they may be priced slightly higher than some other training shoes, the Slip Speed's versatility and superior comfort make them worth every penny. The ability to use them for different training sessions and even casual wear only adds to their overall value.
Tips and Tricks For Best Results
To get the most out of your Slip Speed training shoes, consider the following tips:
Ensure you select the correct size for a comfortable fit.
Use the BOA Fit System to customize the shoe's fit according to your needs.
Clean the shoes regularly to maintain their fresh and clean appearance.
Take advantage of the convertible heel for post-workout recovery.
Final Thoughts
Product Summary: The Under Armour Slip Speed training shoes are a revolution in the fitness world. With their unmatched comfort, support, and versatility, they are a must-have for anyone serious about their training. From intense workouts to casual wear, these shoes will support you every step of the way.
Final Recommendation: Don't miss out on this Slip-On revolution! Order your Under Armour Slip Speed training shoes today and take your training to the next level. Elevate your performance, experience unparalleled comfort, and enjoy the ultimate training shoe. It's time to join the Slip Speed revolution!