The Under Armour Project Rock 3 Slides are the latest iteration of Dwayne "The Rock" Johnson's signature lifestyle shoes. The slides feature a bold and stylish design with a comfortable and supportive fit.
The Project Rock 3 Slides feature a one-piece molded upper with a soft and plush footbed. The upper is made from a durable synthetic material that is both water-resistant and quick-drying. The footbed is made from a soft and responsive foam that provides cushioning and support for your feet.
The Project Rock 3 Slides also feature a Michelin Wildgripper outsole that provides excellent traction on a variety of surfaces. The outsole features a deep lug pattern that helps to prevent slipping and sliding.
Overall, the Under Armour Project Rock 3 Slides are a great option for anyone looking for a comfortable, stylish, and durable pair of slides. The slides are perfect for everyday wear, whether you're running errands, going to the gym, or just relaxing at the pool.
If you're looking for a pair of slides that can keep up with your active lifestyle, the Under Armour Project Rock 3 Slides are a great option to consider.


Why Consider This Product?
When it comes to finding the perfect pair of slides, comfort is key. That's why you should consider the Under Armour Project Rock 3 Slides. These slides are designed to provide the ultimate level of comfort, making them a must-have for anyone. But don't just take our word for it – these slides have been personally approved by Dwayne Johnson, also known as The Rock, who is known for his incredible work ethic and dedication to fitness.
But what sets these slides apart from the rest? Let's take a closer look at the features and benefits that make them stand out.
Features and Benefits
Ultra-Soft Comfort Lining
The fixed, molded strap of the Project Rock 3 Slides features a soft comfort lining that rolls over the edges, ensuring zero irritation while you wear them. Say goodbye to uncomfortable rubbing or chafing, and hello to long-lasting comfort.
Perfect Fit Every Time
The stretch band on the medial side of the strap adapts to your foot, ensuring a perfect fit at the start and finish of your workouts. No matter how intense your training session is, these slides will stay securely in place and provide the support you need.
Recycled Materials for Sustainability
Not only do these slides prioritize comfort, but they also prioritize sustainability. The footbed is made from recycled materials, making them an eco-friendly choice. You can step into these slides with the knowledge that you're repurposing resources and doing your part for the environment.
Absorb Impact and Provide Quickness
Thanks to the Charged Cushioning® midsole, these slides absorb impact and convert it into responsive quickness and comfort. Whether you're walking or running, these slides will provide the support and responsiveness you need to keep going.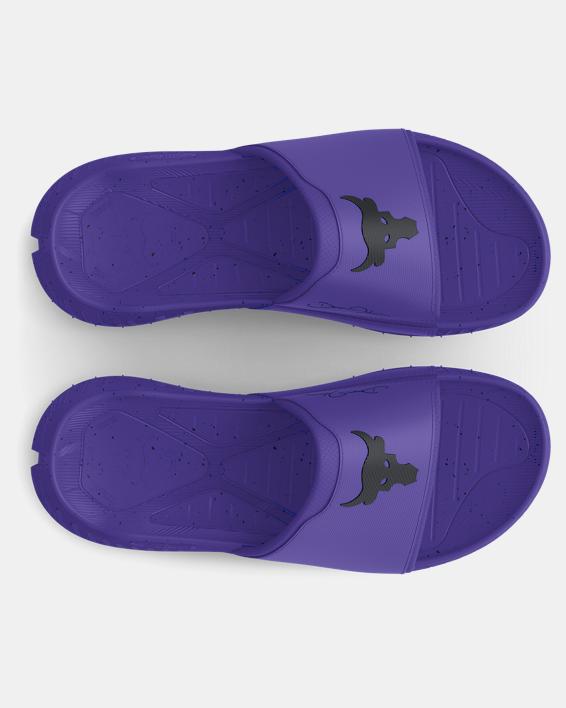 Product Quality
Under Armour is known for its high-quality products, and the Project Rock 3 Slides are no exception. These slides are built to last, with a durable rubber outsole compound and unique traction lugs for unmatched grip and traction. You can trust that these slides will stand up to even the toughest conditions and provide the comfort you need.
What It's Used For
Recovery and Relaxation
After a grueling workout, your feet deserve some TLC. These slides are perfect for post-workout recovery, providing a comfortable and supportive option for your hard-working feet.
Casual Wear
Not only are these slides great for workouts, but they're also perfect for casual wear. Whether you're running errands or hanging out with friends, these slides will keep your feet comfortable and stylish.
Poolside or Beach
Heading to the pool or beach? These slides are a must-have accessory. With their durable construction and unmatched grip, they're perfect for navigating wet surfaces and keeping your feet comfortable while you enjoy the sun and water.
Travel
Traveling can be exhausting, but these slides make it a little more comfortable. Slip them on during long flights or car rides, and give your feet the comfort and support they deserve.
Product Specifications
| Feature | Details |
| --- | --- |
| Gender | Unisex |
| Strap Material | Fixed, molded strap with comfort lining |
| Footbed Material | Recycled materials |
| Midsole | Charged Cushioning® |
| Outsole Material | Durable rubber with unique traction lugs |
| Colors Available | Multiple options to suit your style |
| Size Range | Available in various sizes |
Who Needs This
Anyone who values comfort and style needs the Under Armour Project Rock 3 Slides. Whether you're an athlete looking for post-workout recovery footwear or someone who simply loves comfortable and fashionable slides, these are the perfect choice.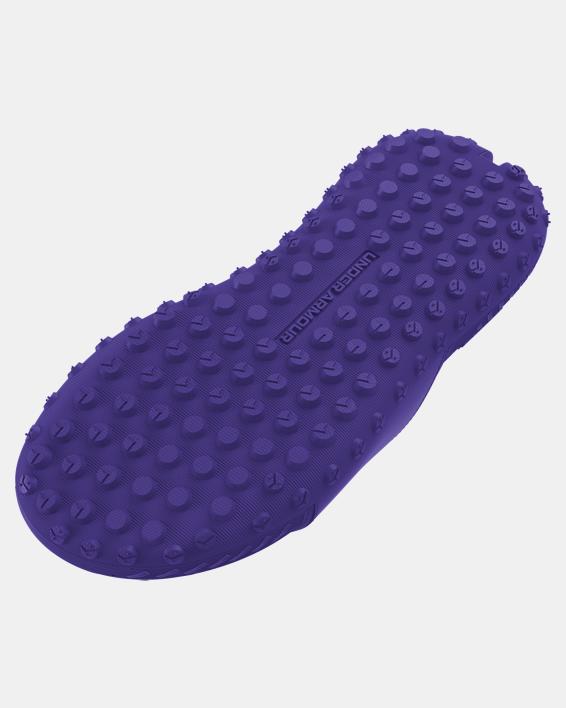 Pros and Cons
Pros:
Unmatched comfort
Perfect fit for workouts and everyday wear
Eco-friendly materials
Impact-absorbing midsole
Durable construction with excellent traction
Cons:
May be considered expensive compared to other slide options
Limited availability of color options in some sizes
FAQ's
Q: Are these slides suitable for wide feet? A: Yes, the stretch band on the medial side of the strap ensures a snug fit for all foot types, including wide feet.
Q: Can I wear these slides in the shower? A: These slides are designed to handle wet conditions, making them suitable for shower use.
Q: Can I wear these slides without socks? A: Yes, these slides are designed for barefoot wear, providing exceptional comfort and breathability.
What Customers Are Saying
Customers rave about the comfort and durability of the Under Armour Project Rock 3 Slides. Many customers appreciate the attention to detail, such as the soft comfort lining and adaptable strap, which provide a perfect fit. Others love the eco-friendly aspect of the recycled footbed and the stylish color options available.
Overall Value
Considering the comfort, durability, and style of the Under Armour Project Rock 3 Slides, they offer excellent value for the price. While they may be slightly more expensive than other slide options on the market, the features and benefits they provide make them an investment in your comfort and satisfaction.
Tips and Tricks For Best Results
When selecting your size, consider opting for a slightly snug fit to ensure the stretch band provides optimal support.
To clean the slides, simply wipe them down with a damp cloth and air dry. Do not machine wash or dry them.
For a personalized touch, add custom insoles to enhance the cushioning and support of the footbed.
Final Thoughts
Product Summary
The Under Armour Project Rock 3 Slides are the comfiest slides you'll ever own. From the ultra-soft comfort lining to the impact-absorbing midsole, these slides are designed for ultimate comfort and support. Made from recycled materials, they're also an eco-friendly choice. With a durable construction and excellent traction, these slides are suitable for workouts, casual wear, and even poolside adventures.
Final Recommendation
If you're in the market for slides that prioritize comfort without sacrificing style, look no further than the Under Armour Project Rock 3 Slides. Whether you're an athlete, a traveler, or simply someone who appreciates well-made footwear, these slides are a must-have. Treat your feet to the ultimate in comfort and step into the world of Under Armour Project Rock 3 Slides today.