As we embark on this journey, we aim to equip you with all the knowledge you need to make an informed decision when considering the Under Armour HOVR Infinite 3.
You can expect a detailed breakdown of its features, including cushioning, support, and responsiveness, and how these aspects impact your running or training experience. We'll also assess the shoe's versatility in different environments and its style, ensuring it not only performs exceptionally but looks good doing it.
Whether you're a dedicated athlete with performance-oriented goals or an active individual who appreciates the perfect blend of form and function, our review will provide valuable insights to help you determine if the Under Armour HOVR Infinite 3 is the ideal footwear choice for you.
It's time to lace up and explore what this innovative shoe has to offer, and by the end of this review, you'll be well-equipped to decide if it's the perfect addition to your athletic arsenal.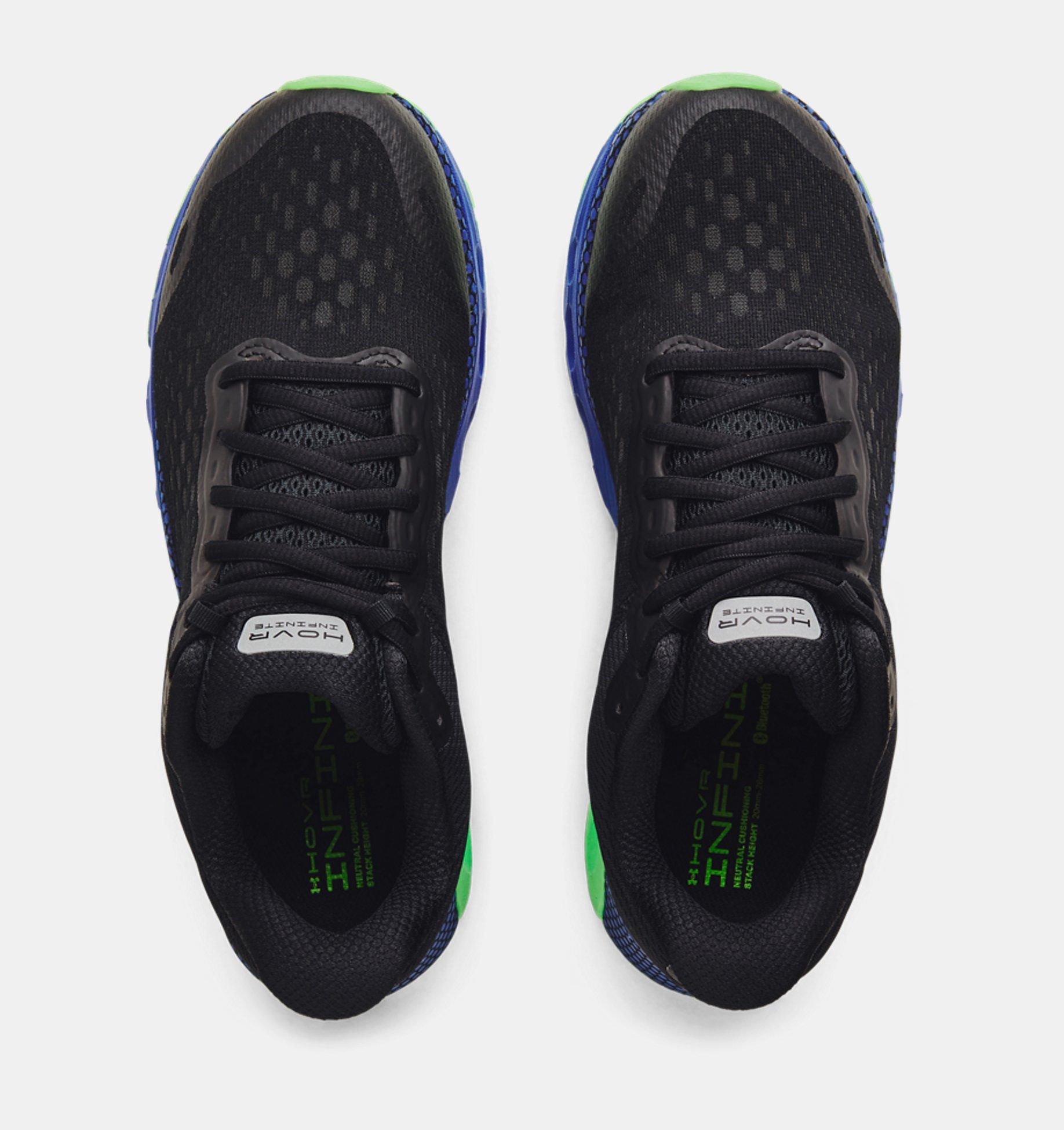 Why Consider This Product?
When it comes to finding the perfect pair of running shoes, the Under Armour HOVR Infinite 3 should definitely be on your radar. Boasting a range of features and benefits, these shoes are designed to enhance your running experience and take your performance to the next level.
Enhanced Energy Return and Efficiency
One of the key benefits of the UA HOVR Infinite 3 is its ability to provide energy return and efficiency for pro distance runners. Through its innovative UA HOVR cushioning technology, these shoes reduce impact, return energy, and help propel you forward with every stride. Scientific research and evidence support the effectiveness of this technology, ensuring that you get the most out of every run.
Lightweight and Breathable
Nobody wants to feel weighed down while running. The engineered mesh upper of the UA HOVR Infinite 3 is both lightweight and breathable, allowing for optimal airflow and ventilation. This not only keeps your feet cool and comfortable but also prevents them from feeling suffocated during intense workouts.
Strategic Support and Additional Stability
With strategic support precisely where you need it, these running shoes provide the perfect blend of comfort and stability. The internal heel counter offers additional support, ensuring that your feet stay secure and aligned throughout your run. This feature is particularly beneficial for those prone to pronation or supination, as it helps correct your foot's natural movement and maintain proper running form.
Personalized Tips for Improvement
The UA HOVR Infinite 3 takes your running experience a step further by offering the ability to connect to UA MapMyRun. This integration allows you to receive personalized tips and feedback to help you become a better runner. Whether you're looking to improve your speed, endurance, or technique, these shoes have got you covered.
Product Quality
Under Armour is known for its commitment to quality, and the HOVR Infinite 3 is no exception. Crafted with durability in mind, these running shoes are designed to withstand the demands of intense workouts and long-distance runs. The deep flex grooves and carbon rubber pods provide the right amount of flexibility and traction, ensuring that you have full control and stability with every step.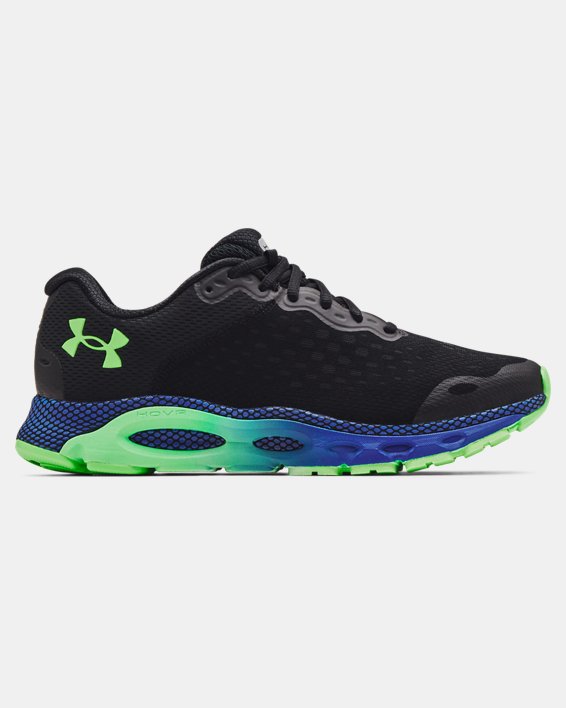 What It's Used For
Maximize Your Performance
The UA HOVR Infinite 3 is specifically designed to maximize your performance as a distance runner. Whether you're training for a marathon or simply enjoy going for long runs, these shoes will support you every step of the way. With their energy-returning cushioning and strategic support, you'll be able to run longer and faster without compromising comfort.
Versatile for Various Workouts
While these shoes excel in the realm of running, they are also versatile enough to be used for other workouts. Whether you're hitting the gym for some cross-training or participating in a high-intensity interval training (HIIT) session, the UA HOVR Infinite 3 will provide the cushioning and stability you need to perform at your best.
Everyday Comfort
Even if you're not a professional athlete or an avid runner, the UA HOVR Infinite 3 is still a great choice for everyday wear. With their lightweight design and comfortable underfoot sockliner, these shoes will keep your feet happy and supported throughout your busy day.
Injury Prevention
Investing in a high-quality pair of running shoes is important for injury prevention. The UA HOVR Infinite 3's cushioning technology and strategic support help reduce the risk of common running injuries, such as shin splints and stress fractures. By providing the right amount of impact absorption and stability, these shoes keep your feet and joints safe during your most intense workouts.
Who Needs This
The UA HOVR Infinite 3 is ideal for a range of individuals who are looking to improve their running experience. This includes:
Pro distance runners seeking enhanced energy return and efficiency
Casual runners who want to boost their performance and comfort
Fitness enthusiasts who require versatile shoes for various workouts
Individuals looking to prevent running-related injuries
Pros and Cons
Pros:
Energy-returning cushioning
Lightweight and breathable design
Strategic support for stability and alignment
Personalized tips and feedback through UA MapMyRun integration
Versatile for different workouts and everyday wear
Injury prevention through optimal impact absorption
Cons:
May be a higher investment compared to budget running shoes
Limited color options available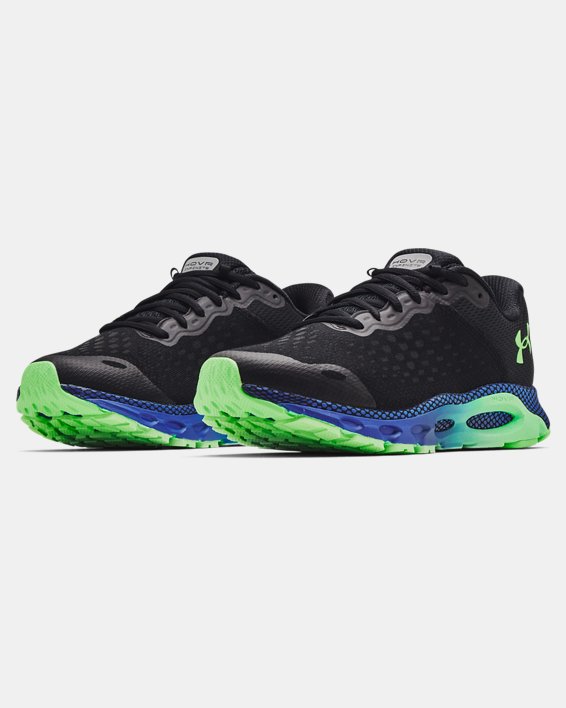 FAQ's
Q: Are the UA HOVR Infinite 3 running shoes true to size? A: Yes, they are designed to fit true to size for most individuals. However, it is always recommended to refer to the size chart provided by Under Armour to ensure the perfect fit.
Q: Can I use the UA HOVR Infinite 3 for trail running? A: While these shoes are primarily designed for road running, they can handle light trail running. However, for more technical trails, it is recommended to opt for a dedicated trail running shoe.
Q: How do I connect the UA HOVR Infinite 3 to UA MapMyRun? A: Simply download the UA MapMyRun app on your smartphone, create an account, and follow the provided instructions to pair your shoes with the app.
What Customers Are Saying
"Since switching to the UA HOVR Infinite 3, I've noticed a significant improvement in my running performance. The cushioning is just right, and the support helps keep my feet aligned and pain-free." – John T.
"I've struggled with pronation for years, but these shoes have made a world of difference. My runs are more comfortable, and I no longer have to worry about foot pain." – Sarah H.
Overall Value
The UA HOVR Infinite 3 offers exceptional value for runners of all levels. With its range of features and benefits, these shoes provide the comfort, support, and performance-enhancing qualities that every runner needs. While they may be a slightly higher investment compared to budget options, the long-lasting durability and overall improvement in running experience make it worth every penny.
Tips and Tricks for Best Results
Make sure to break in the shoes gradually to allow them to conform to your feet and running style.
Use the UA MapMyRun integration to track your progress and receive personalized tips for improvement.
Keep your shoes clean by regularly wiping them with a damp cloth and allowing them to air dry.
Replace your running shoes every 300-500 miles to ensure optimal performance and support.

Final Thoughts
Product Summary
The Under Armour HOVR Infinite 3 is an exceptional running shoe that offers a range of features and benefits to enhance your running performance. From its energy-returning cushioning to the strategic support and personalized tips, these shoes have everything you need to become a better runner. Plus, they are durable, versatile, and comfortable for various workouts and everyday wear.
Final Recommendation
If you're serious about running and want to invest in a quality pair of running shoes, look no further than the Under Armour HOVR Infinite 3. With its impressive features, scientific research-backed effectiveness, and positive customer testimonials, this shoe is a game-changer for any runner. Don't ignore the surprising benefits that these shoes can offer you on your running journey.