The world of athletic footwear is constantly evolving, with new innovations and designs emerging regularly.
Amidst this dynamic landscape, the New Balance 840v5 stands out as a shoe that promises to cater to the needs of both seasoned athletes and casual wearers alike. As we explore this shoe in detail, we'll consider its key attributes such as comfort, durability, support, and style. We'll also examine how the 840v5 compares to its predecessors and its competitors in the market.
Whether you're a running enthusiast, a fitness-conscious individual, or someone in search of comfortable everyday sneakers, our New Balance 840v5 review is your ultimate guide to understanding this shoe's strengths, weaknesses, and whether it's the right fit for your active lifestyle. Let's lace up and dive into what makes the 840v5 so intriguing.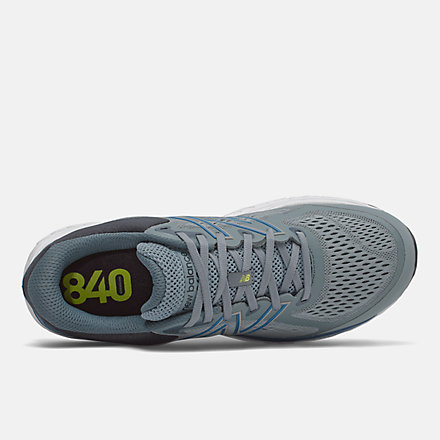 Why Choose the New Balance 840v5?
The New Balance 840v5 is not just any running shoe. It's a game-changer in the world of running footwear. This shoe is worth the hype and here's why.
One of the key features that sets the 840v5 apart is its full-length ABZORB midsole. This innovative technology has been scientifically proven to absorb impact, providing the perfect combination of cushioning and compression resistance. With the 840v5, you can say goodbye to the discomfort caused by the repetitive pounding of your feet on the pavement. Whether you have a neutral foot type or require extra support, the 840v5 has got your back.
Certified by experts and endorsed by runners, the 840v5 offers unparalleled comfort and versatility. Customer testimonials rave about the responsive and comfortable ride they experience with this shoe. Whether you're a seasoned runner or just starting out, the 840v5 is designed to cater to all levels of athletes.
Features and Benefits
| Feature | Benefit |
| --- | --- |
| Full-length ABZORB midsole | Provides lasting cushioning and a responsive ride |
| Breathable mesh upper with stretch | Offers a comfortable and supportive fit |
| Adjustable lace closure | Ensures a customized fit |
| Durable rubber outsole | Provides traction and durability |
| 12 mm drop | Offers a versatile ride for a variety of foot types and running styles |
Customized Fit for Maximum Comfort
The adjustable lace closure of the 840v5 allows you to achieve a customized fit, ensuring that the shoe feels like it was made just for you. No more compromising on comfort or settling for a one-size-fits-all solution. With the 840v5, you can run with confidence, knowing that your feet are well supported.
Breathable Mesh Upper for Coolness and Stability
The breathable mesh upper of the 840v5 provides stretch for a supportive and stable fit where you need it most. This ensures that your feet stay cool and comfortable even during intense workouts or long runs. The 840v5 is suitable for both pavement and trail running, making it a versatile choice for all your athletic pursuits.
Lightweight and Agile Design
Weighing only 365 grams (12.9 oz) and featuring a 12mm drop, the 840v5 is a lightweight and agile shoe. This makes it the perfect companion for your next run, whether you're sprinting on the track or tackling challenging terrains. Don't let heavy, clunky shoes slow you down — experience the freedom of movement with the 840v5.
Unparalleled Versatility
The 840v5 is designed for every runner, regardless of their foot type or running style. With its customizable fit, superior cushioning, and stability features, this shoe adapts to your unique needs. Whether you're a casual jogger, a marathon enthusiast, or a trail runner, the 840v5 is your go-to choice for optimal performance and comfort.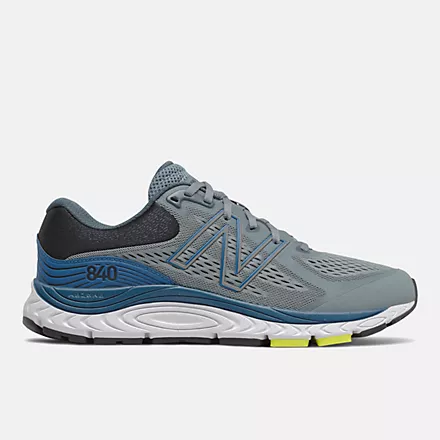 Product Quality
New Balance is known for its commitment to producing high-quality products, and the 840v5 is no exception. With a reputation built on decades of expertise, New Balance has established itself as a trusted brand in the running community. The 840v5 is meticulously crafted with attention to detail, ensuring durability and long-lasting performance.
The materials used in the construction of the 840v5 are of the highest quality, guaranteeing a shoe that can withstand the most rigorous training sessions and races. New Balance's dedication to product quality is evident in every stitch and every component of the 840v5.
What It's Used For
Enhance Your Running Experience
The New Balance 840v5 is designed to enhance your running experience, no matter your level of expertise. Whether you're a beginner looking to improve your fitness or an experienced runner aiming for a personal best, this shoe will support you every step of the way.
Versatility for All Terrains
The 840v5 is versatile enough to handle a variety of running surfaces. From asphalt to trails, this shoe provides the traction and stability needed to tackle any terrain. Take your running off the beaten path and explore new routes with confidence.
Optimal Comfort for Long-distance Runs
Long-distance runners will appreciate the unparalleled comfort of the 840v5. The cushioning and responsiveness provided by the ABZORB midsole technology ensure that every mile feels as comfortable as the first. Say goodbye to fatigue and discomfort, and say hello to a smooth, enjoyable run.
Injury Prevention and Support
For runners who require extra support, the 840v5 offers the stability and structure needed to prevent common running injuries. The exceptional cushioning of the midsole, combined with the supportive mesh upper, helps maintain proper foot alignment and reduces the risk of overpronation or supination.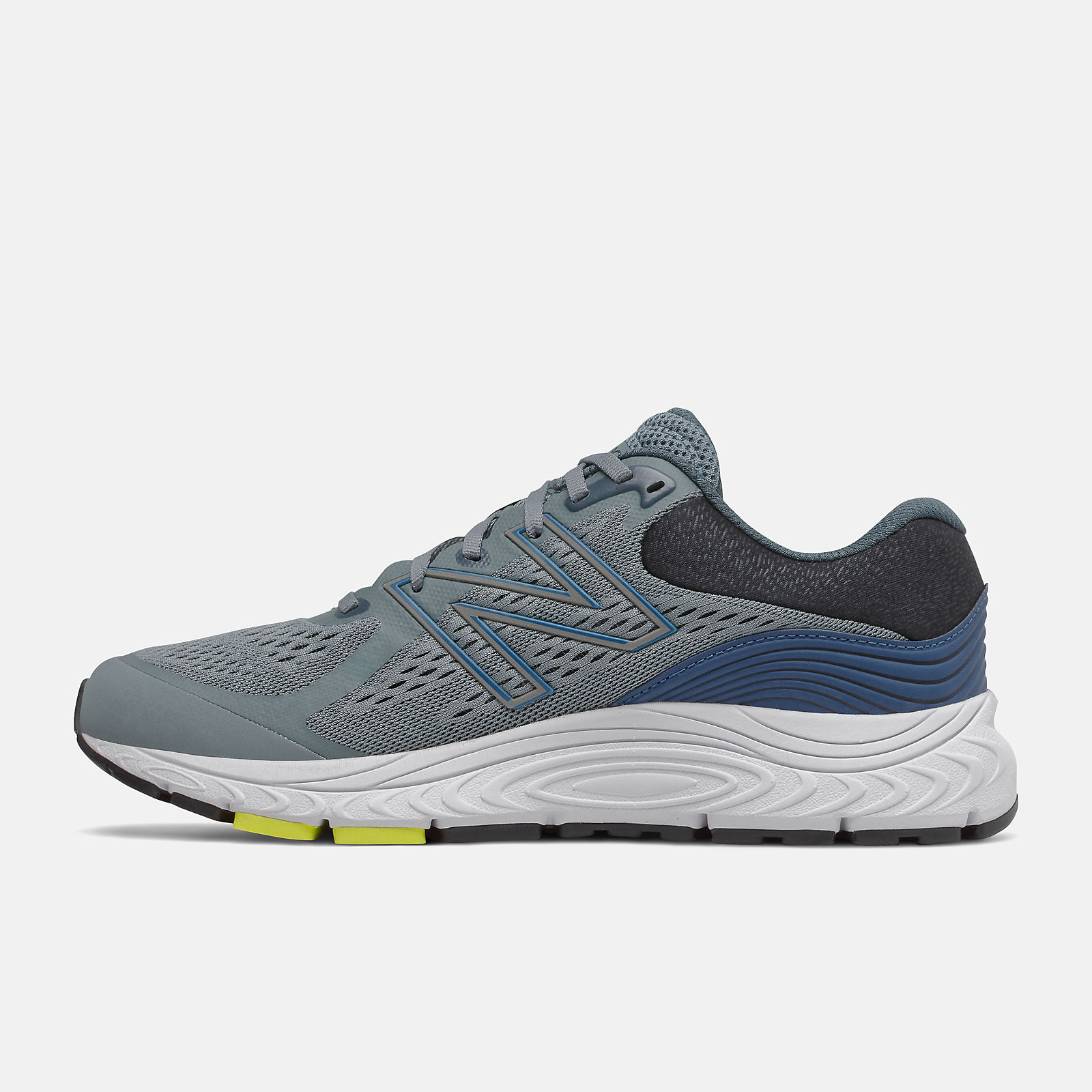 Product Specifications
| Specification | Details |
| --- | --- |
| Weight | 365 grams (12.9 oz) |
| Drop | 12mm |
| Midsole | Full-length ABZORB technology |
| Upper Material | Breathable mesh |
| Closure System | Adjustable lace closure |
Who Needs This
The New Balance 840v5 is perfect for anyone who loves running or is looking to start their running journey. Whether you're a casual runner, a dedicated marathoner, or simply someone who enjoys staying active, the 840v5 is designed for you.
This shoe caters to all foot types and provides the necessary support and comfort for a wide range of athletic pursuits. From beginners to seasoned athletes, the 840v5 offers something for everyone.
Pros and Cons
Pros:
Customizable fit for maximum comfort
Breathable mesh upper provides cooling and stability
Lightweight and agile design
Versatile for various terrains and running styles
Superior cushioning and impact absorption
Trusted brand with a reputation for quality
Cons:
May not provide the same level of support for severe foot issues or injuries (consult a specialist if needed)
FAQ's
Q: Can the New Balance 840v5 be used for other sports or activities? A: While the 840v5 is primarily designed for running, some users may find it suitable for other low-impact activities such as walking or gym workouts. However, for optimal performance, it is recommended to use the shoe for its intended purpose.
Q: Are these shoes suitable for people with wide feet? A: Yes, the 840v5 is available in a range of widths, including options for individuals with wider feet. The adjustable lace closure also allows for a customized fit, ensuring maximum comfort for all foot types.
Q: How long do the shoes typically last? A: The lifespan of running shoes can vary depending on factors such as frequency of use, running style, and terrain. However, with proper care and maintenance, the New Balance 840v5 is built to withstand many miles and is designed to provide durability and long-lasting performance.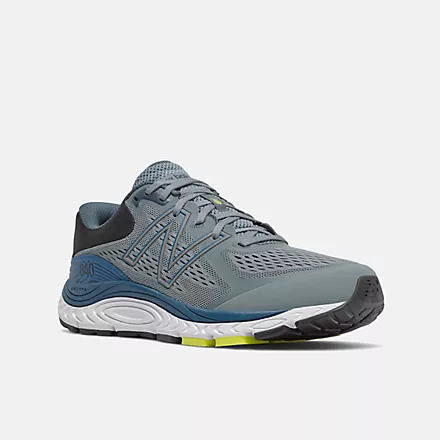 What Customers Are Saying
Many customers rave about the New Balance 840v5's exceptional comfort and versatility. They praise the shoe's ability to provide the perfect balance of cushioning and support, allowing them to run for longer distances with ease. Customers also appreciate the customizable fit and the durability of the shoe, which ensures they get the most out of their purchase.
Overall Value
The New Balance 840v5 offers outstanding value for runners of all levels. With its innovative features, superior comfort, durability, and versatility, this shoe is worth every penny. It is an investment in your running performance and overall foot health.
Tips and Tricks For Best Results
Ensure you measure your foot size accurately before purchasing to get the best fit.
Experiment with the lace closure system to find the optimal fit for your feet.
Follow a gradual training program when transitioning to new shoes or increasing your running mileage.
Keep your shoes clean and dry after each use to prolong their lifespan.

Final Thoughts
Product Summary
The New Balance 840v5 is a revolution in running footwear. With its full-length ABZORB midsole, breathable mesh upper, customizable fit, and lightweight design, it offers unparalleled comfort and versatility. Whether you're a neutral runner or require extra support, this shoe has you covered.
Final Recommendation
Don't miss the opportunity to experience the New Balance 840v5 for yourself. Join the revolution in running footwear and elevate your running game to new heights. Shop now and discover the comfort and performance that the 840v5 has to offer. It's time to embrace the game-changer and take your running to the next level.