Discover the top picks for your workout with the 8 best shoes for treadmill running. Find the perfect blend of comfort and performance for your fitness journey.
Running on a treadmill can be a fantastic way to stay fit, keep up with your training, or just burn off some steam. However, not all running shoes are created equal when it comes to the unique demands of treadmill running. To help you navigate through an ocean of options, we've compiled a list of the 8 Best Shoes for Treadmill, designed to provide you with comfort, support, and outstanding performance for your indoor runs.
Treadmill running is a popular workout routine for many, but the right gear is crucial to make the most of it. Picking the best shoes for treadmill is not just about style; it's about finding the perfect blend of cushioning, stability, and durability to suit your workout. In this article, we will detail the top treadmill shoes that ensure your feet stay happy, mile after mile.
Factors to Consider When Choosing Treadmill Shoes
Before delving into the specifics of each shoe, let's quickly identify the essential features to consider:
Cushioning and Shock Absorption: Helping to reduce the impact on your joints.
Stability: Ensuring your feet stay in place, preventing sidewise movements.
Breathability: To keep the feet cool and comfortable.
Durability: Particularly the outsole, which should wear down slower despite the constant friction.
Fit: Snug yet comfortable; your feet shouldn't move inside the shoe while running.
Asics has a well-earned reputation for manufacturing some of the most reliable running shoes, and the Gel-Kayano 29 is no exception.
Cushioning: Loaded with GEL technology for maximum shock absorption.
Stability: Advanced materials provide foot support where it's needed the most.
Fit: Engineered mesh upper that adapts to the foot's natural shape.
The Asics Gel-Kayano 29 continues to deliver a premium stability running shoe experience with its luxurious GEL cushioning and supportive structure.
Pros:

Superior stability features.
Exceptional impact absorption.
Personalized fit with its adaptive mesh upper.

Cons:

On the heavier side, which may not appeal to speed-focused runners.
Can be on the pricier side of the spectrum.
The Brooks Ghost 15 remains a go-to for treadmill enthusiasts due to its balance between comfort and responsiveness. Read More: Best Brooks Shoes for Treadmill
Cushioning: DNA LOFT cushioning offers soft and luxurious underfoot support.
Breathability: The engineered mesh upper facilitates airflow.
Durability: High-abrasion rubber outsole that resists the treadmill belt's wear and tear.
The Brooks Ghost 15 offers the reliable comfort and soft, balanced cushioning that treadmill runners adore, ensuring a smooth ride every time.
Pros:

Soft, cushioned ride ideal for long-distance runs.
Durable outsole suited for the continuous friction of a treadmill.
Highly breathable upper to keep feet cool.

Cons:

May lack the responsiveness sought by those preferring a more propulsive shoe.
Slightly bulkier design not suited for those desiring a minimalist shoe.
Nike Winflo 10
Nike consistently ranks high on the list of top sports shoes, with the Winflo 10 showcasing the brand's commitment to quality.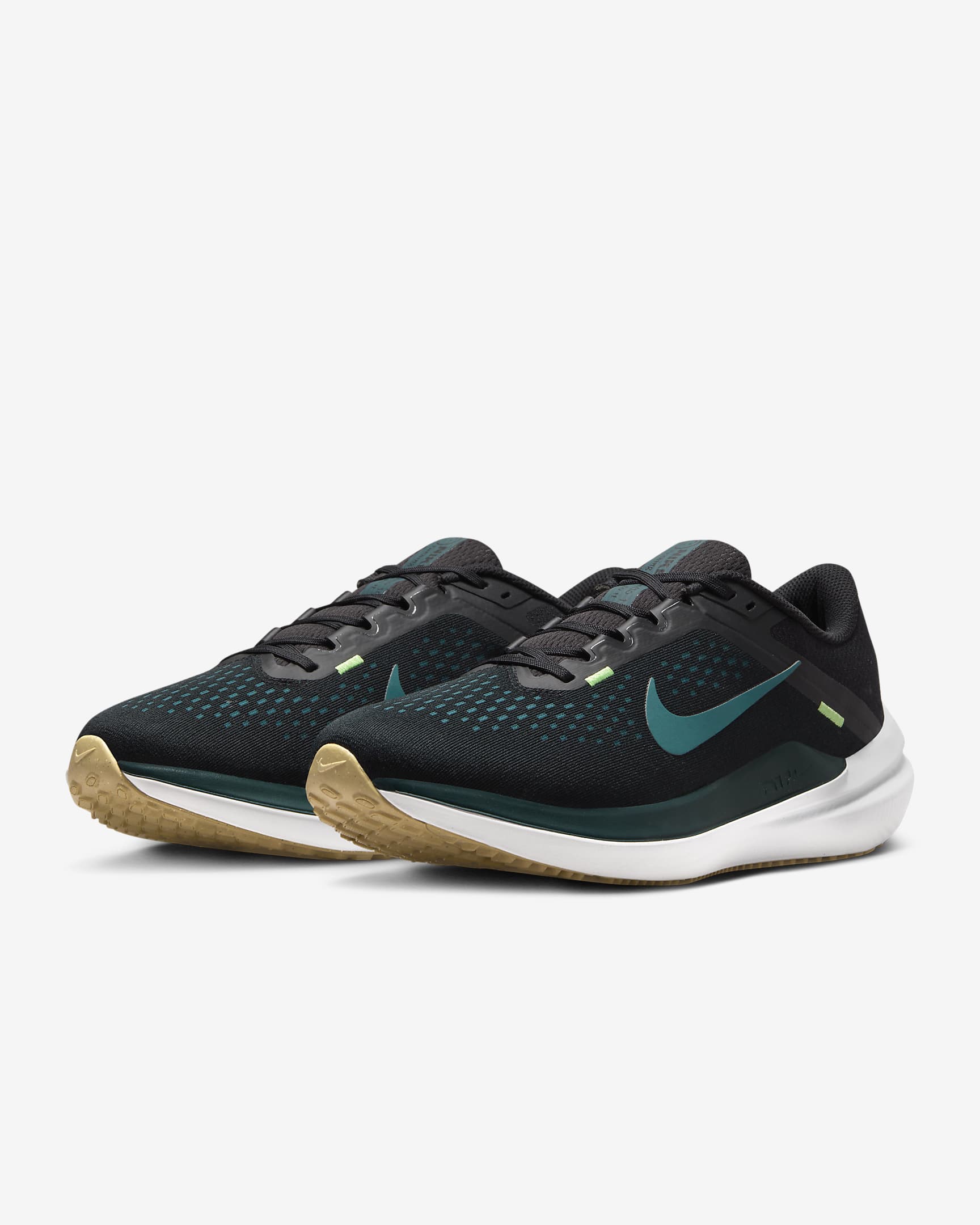 Men's Nike Winflo 10                           Women's Nike Winflo 10 
Performance: Offers a responsive ride that's perfect for speed work.
Comfort: Cushlon ST foam helps cushion your stride.
Design: Sleek, modern look with a secure fit to prevent slippage.
With the Nike Winflo 10, runners can expect a responsive and durable shoe that provides a secure fit and stylish design.
Pros:

Great for speed training with its responsive cushioning.
Comfortable fit that locks the foot in place.
Stylish design that also functions well.

Cons:

Less cushioning compared to some competitors, which may affect long-distance comfort.
Tread patterns may not be as durable as others on this list.
New Balance brings comfort to another level with their Fresh Foam X 1080v13, a shoe built for long distances.
Innovative Design: Fresh Foam midsole created from a single piece of foam.
Flexibility: Blown rubber outsole that flexes with your foot.
Support: A bootie construction and an ultra heel design cradle the back of your foot.
The New Balance Fresh Foam X 1080v13 offers plush, high-grade cushioning making it the perfect companion for long treadmill sessions.
Pros:

Premium cushioning for ultimate comfort.
A upper construction that provides a sock-like fit.
Excellent durability, suited for high mileage.

Cons:

Higher price point as a premium shoe option.
Some runners might find the shoe lacks sufficient arch support.
HOKA Clifton 9
Known for their signature cushioning, the HOKA Clifton 9 impresses with a combination of softness and lightness.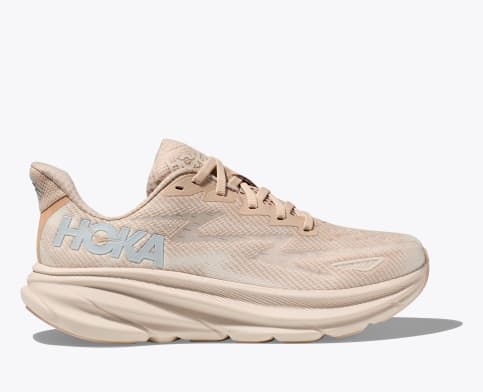 Men's HOKA Clifton 9                 Women's HOKA Clifton 9
Maximum Cushioning: Full-compression EVA midsole provides HOKA's renowned cushioning.
Lightweight: One of the lightest options on the market without compromising on support.
Breathability: Mesh upper construction aids ventilation during intense workouts.
The cushioning of the HOKA Clifton 9 is, as always, generous, providing a cloud-like feel, while maintaining a remarkably light weight.
Pros:

Extremely cushioned midsole for peak impact protection.
Lightweight despite the high level of cushioning.
Generous toe box and overall comfortable fit.

Cons:

The maximalist design might not appeal to all runners.
Some may find the cushioning too soft for a responsive feel.
The Saucony Triumph 20 stands out for its overall comfort, one of the most critical aspects for treadmill running.
All-Round Comfort: PWRRUN+ cushioning is plush yet responsive.
Form-Fit: Adapts to your foot for a personalized feel.
Durability: Tri-Flex outsole for optimal flexibility and protection against the wearing effects of a treadmill.
Experience the luxurious comfort of the Saucony Triumph 20, which features top-tier cushioning that doesn't compromise on responsiveness.
Pros:

Incredibly plush PWRRUN+ midsole.
Adaptive fit that molds to the shape of your foot.
Exceptional durability that withstands heavy training.

Cons:

Less ground feel due to thick cushioning.
May run slightly warmer compared to other models.
The Mizuno Wave Rider 26 combines traditional craftsmanship with innovative technology to create a responsive, yet comfortable, treadmill-running experience.
Wave Technology: Serves dual-purpose of cushioning plus stability.
Ventilation: AeroHug mesh upper keeps things breezy.
Responsive Ride: U4ic midsole cushioning for a smooth and springy step.
Riders of the Mizuno Wave Rider 26 can look forward to a responsive, yet well-cushioned experience, aided by the brand's innovative Wave technology.
Pros:

Perfect balance of cushion and stability thanks to Wave technology.
Durable outsole ideal for repetitive treadmill use.
Responsive feel for a more energetic run.

Cons:

A firmer ride, which might not be to everyone's preference.
Can be less cushioned than competitors might offer.
Adidas's UltraBoost 22 not only looks futuristic but also provides a tech-forward approach to running comfort.
Energy Returning: Boost technology provides a springy, energized ride.
Fit: Primeknit upper wraps the foot with a supportive fit.
Traction: Continental™ Rubber outsole offers grip on the treadmill's moving surface.
The Adidas UltraBoost 22 packs high-performance features with energy-returning properties, making it a trendy and functional pick for treadmill runners.
Pros:

Unmatched energy return keeps you going stronger for longer.
Snug, sock-like fit that stays comfortable throughout your run.
High-grip outsole that performs well on treadmill surfaces.

Cons:

Can feel heavier compared to other options on this list.
The snug fit might be too tight for those with wider feet.
Comparison Table
Here's a quick glance at the key features that set each of these shoes apart:
| Shoe Model | Cushioning | Stability | Breathability | Durability | Fit |
| --- | --- | --- | --- | --- | --- |
| Asics Gel-Kayano 29 | GEL technology | High | Good | Excellent | Customized |
| Brooks Ghost 15 | DNA LOFT | Moderate | Excellent | Great | True-to-size |
| Nike Winflo 10 | Cushlon ST foam | Moderate | Good | Good | Secure |
| New Balance 1080v13 | Fresh Foam | High | Excellent | Excellent | Custom-fit |
| HOKA Clifton 9 | Full-EVA | Light | Excellent | Good | Breathable |
| Saucony Triumph 20 | PWRRUN+ | Good | Excellent | Excellent | Adaptive |
| Mizuno Wave Rider 26 | U4ic | Excellent | Great | Good | Responsive |
| Adidas UltraBoost 22 | Boost | Good | Excellent | Great | Supportive |
How to Choose the Right Shoe for You
When selecting from the best shoes for treadmill, consider your running style, foot shape, and personal preferences. Take the time to try them on, and listen to your body's feedback. Remember, what works for one runner may not work for another.
Tips for Choosing the Best Treadmill Shoes and Our Top Recommendation
Selecting the perfect pair of treadmill shoes can be as personalized as your training program. Here are some tips to help you find the best fit for your indoor runs, along with our top shoe recommendation.
Tips for Choosing Your Treadmill Shoes:
Consider Your Running Style: Are you a heel striker, midfoot striker, or forefoot striker? Different shoes cater to different styles.
Know Your Arch Type: Whether you have low arches, neutral arches, or high arches, there's a shoe designed to support your specific foot type.
Assess the Cushioning: Heavier runners or those who prefer long distance might prioritize more cushioning, while lightweight runners or those who favor speed may opt for less.
Think About Breathability: Treadmill running often takes place in warmer indoor conditions, so good ventilation in a shoe is key.
Test the Fit: Ensure there's a thumb's width of space between the end of the longest toe and the front of the shoe to accommodate foot swelling during runs.
Our Top Recommendation:
After combing through each shoe's unique features, weighing their pros and cons, and considering what the majority of treadmill runners might look for, we recommend the Brooks Ghost 15.
The Ghost 15 provides an ideal blend of comfort, cushioning, and durability, which makes it versatile for various treadmill workouts. Its balanced and smooth ride caters to runners of all skill levels and styles, making it a safe bet for those unsure about their specific preferences.
Cushioned Ride: DNA LOFT cushioning offers just the right amount of softness without losing responsiveness.
Versatile: Equally suited for high-mileage workouts as it is for shorter, faster runs.
Durability: Equipped with a high-abrasion rubber outsole that will handle the consistent pounding on the treadmill belt.
Most importantly, the Brooks Ghost 15 garners consistently positive reviews for its comfortable fit, which can accommodate a wide range of foot shapes and sizes. It's a strong choice for both the casual runner looking for everyday comfort and the dedicated athlete aiming to rack up serious indoor mileage.
Remember, the best treadmill shoe is the one that you'll want to lace up every day and run in. It should inspire confidence, support your feet, and be a vehicle to achieve your fitness goals. With this guide and the tips provided, you are well-equipped to make an informed decision for your next pair of treadmill running shoes. Happy shopping and even happier running!
Conclusion
The quest for the best shoes for treadmill is a journey to find the ultimate footwear that can handle the pace, intensity, and repetitive nature of your indoor runs. With our top picks, you're sure to find a shoe that not only meets your performance needs but also keeps you injury-free and excelling on the treadmill.
Happy running, and may your feet find their perfect match!
Frequently Asked Questions (FAQs)
How often should I replace my treadmill shoes?
Most shoes last between 300-500 miles, but it depends on your running style and weight.
What kind of shoes are good for treadmill?
On a treadmill, you'll want shoes that boast good cushioning to absorb the impact, have sufficient stability to support lateral movements, and feature a breathable design to keep your feet cool. Look for running shoes specifically crafted with treadmill workouts in mind for the best experience.
Can I use my running shoes on a treadmill?
Absolutely! Your regular running shoes can typically transition well to treadmill use, especially if they have ample cushioning and a supportive fit. Just ensure they're in good condition, as worn-out shoes may not provide the protection and comfort you need on the treadmill's unyielding surface.
Are training shoes good for treadmill?
Training shoes are designed to provide support for a variety of activities, including lateral movements and weightlifting, which makes them suitable for light jogging or walking on a treadmill. However, for dedicated running workouts, running-specific shoes are preferable due to their optimized cushioning and design for forward motion.
What should I wear to a treadmill workout?
For a treadmill workout, wear moisture-wicking and breathable clothing to help manage sweat and keep you cool. Go for running shorts or leggings, a breathable tee or tank, and well-fitted athletic socks to reduce blisters. Comfort is key, so choose gear that allows you to move freely without distraction.
Do I need special shoes for treadmill?
Special shoes aren't a requirement for using a treadmill, but running shoes designed for road or treadmill use can enhance your comfort and reduce the risk of injury. These shoes typically offer the right combination of cushioning, support, and durability to handle the repetitive motion on a treadmill.
Can I use Nike run on a treadmill?
Yes, Nike has a variety of running shoes that are well-suited for treadmill use. Models like the Nike Winflo or the Nike Pegasus are popular choices as they provide responsive cushioning and a comfortable fit that are ideal for indoor running sessions.
Can I use walking shoes on treadmill?
Walking shoes can be used on a treadmill for walking workouts. They usually offer good support and comfort for a more leisurely pace. However, if you plan to run, opt for running shoes to ensure proper cushioning and biomechanical efficiency.
Are flat shoes good for treadmill?
Flat shoes generally lack the cushioning necessary for the high-impact activity of running, so they're not usually recommended for treadmill workouts. Shoes with proper arch support and elevated cushioning are preferable for absorbing shock and promoting a healthy stride.
Can I treadmill in slippers?
Treading in slippers is not advisable. Slippers provide little to no support, cushioning, or grip, all of which are critical to maintain safety and prevent injuries while using a treadmill. Always opt for proper athletic footwear to ensure a secure and effective workout.